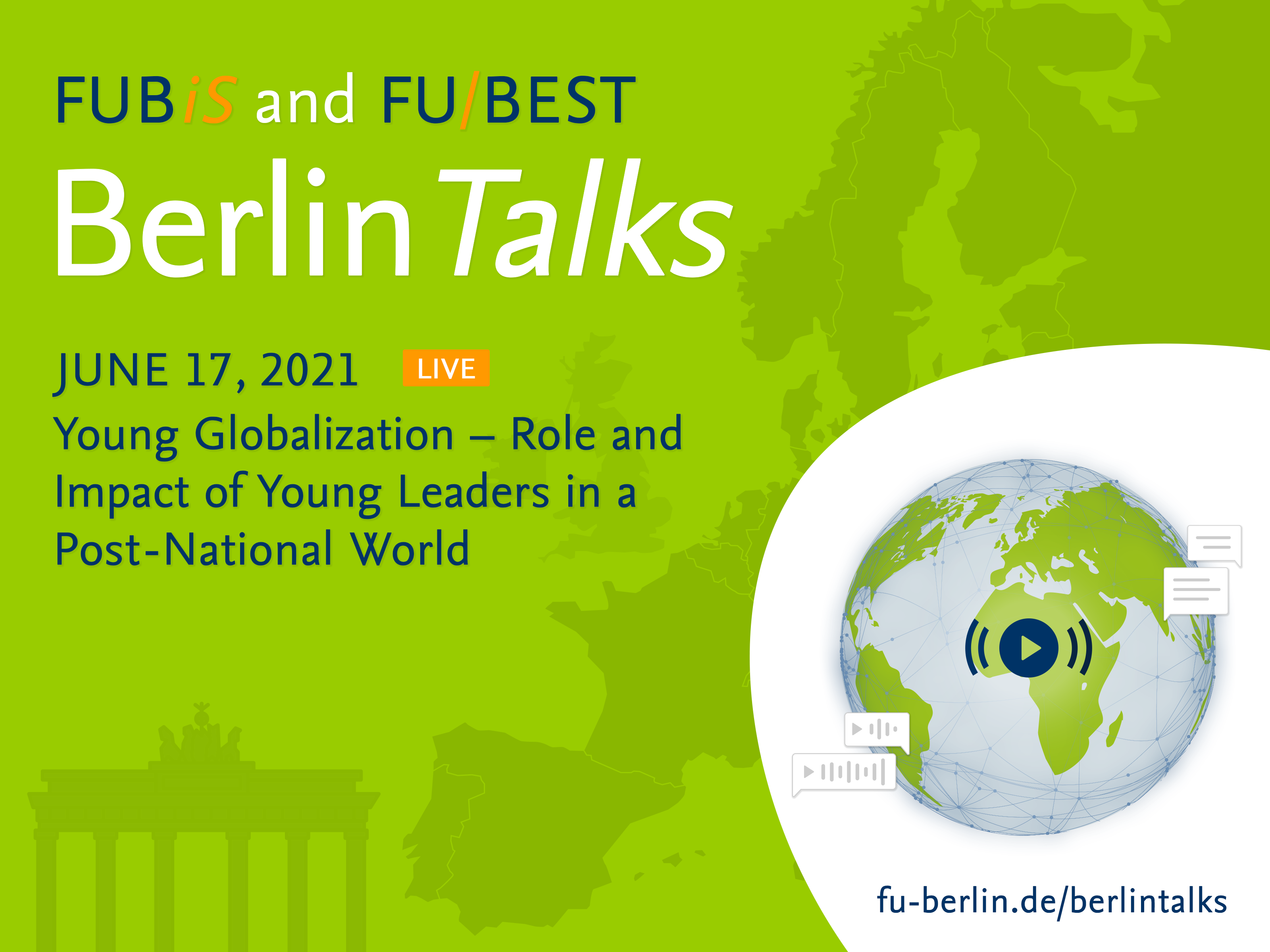 ---
Next live panel:

September 16, 7 p.m.: Populism and the Future of Democracy in Europe


Welcome to Berlin Talks!
Thank you for having joined our live session on June 17! Please check out the "Past Events & Recordings" section to watch the recording on our YouTube channel.
---
The international programs FU-BEST (European Studies) and FUBiS (International Summer and Winter University) will present an online panel discussion entitled "Young Globalization – Role and Impact of Young Leaders in a Post-National World" on Thursday, June 17, at 7 p.m.. Six panel members, representing younger generations in programs, projects, and careers in international affairs, will discuss various aspects of this topic.
It is frequently argued that "the world is a village". As this "village" moves into the future, what roles can and do younger generations play, through their professional careers, as activists, as community leaders, as creative thinkers? The panel for this event features six younger-generation representatives from this "global village", whose work, activism, and thinking touch on the topic of global governance, multilateralism, and the multifaceted role of younger generations in international affairs.
The event will be held in English and will be broadcast live from the Academic Senate Hall of Freie Universität Berlin. Online viewers are invited to participate via the chat with questions and comments. A recording of the panel discussion will later be made available on this website as well as on the YouTube channels of the organizing programs FU-BEST and FUBiS. (Please note: Only the panelists will be recorded, not the audience.).


Join us live:
Date:
Live Session:
Password:
Follow us on social media and stay up-to-date with the latest Berlin Talks events by visiting our websites: FU-BEST & FUBiS.
About Freie Universität Berlin European Studies Program (FU-BEST) and
Freie Universität Berlin International Summer and Winter University (FUBiS)
These international short-term study programs include German language instruction as well as a large selection of (especially English-language) subject courses. Participants can choose between a semester-long program or the summer/winter program. For more information visit www.fubest.org and www.fubis.org. Both programs have been awarded the Quality Improvement Program (QUIP) quality seal by the Forum on Education Abroad. In 2019 they welcomed a total of 934 students from over 40 countries to Freie Universität Berlin.
As a result of the COVID19 pandemic, the programs also offer academic online programs awarding internationally recognized ECTS credits as well as free online public lecture series. The online offers from FU-BEST and FUBiS were recognized in 2020 by the initiative "Germany 'Land of Ideas': Beyond Crisis".
Contact
Friederike Zähringer
Coordinator Marketing & Communications
Freie Universität Berlin International Summer and Winter University (FUBiS) &
Freie Universität Berlin European Studies Program (FU-BEST)
phone: +49 (0)30 / 838 - 66560
email: friederike.zaehringer@fu-berlin.de