Worldwide Alumni Celebrations of FU Berlin in Cairo!
News vom 04.12.2021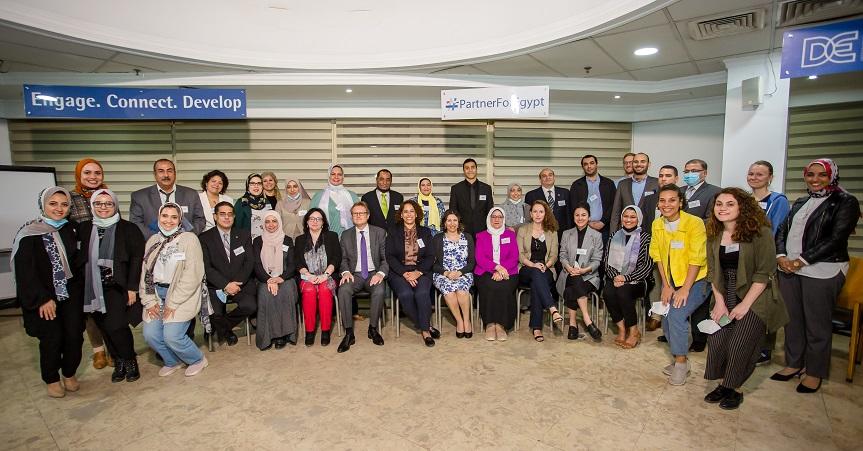 Each year on December 4 - the so called Ernst Reuter Day - students, staff, alumni and friends of Freie Universität come together in Berlin to celebrate its founding anniversary. In the spirit of this special day, this year, Freie Universität celebrated the Worldwide Alumni Celebrations over the course of the last week in eight cities around the world - in Athens, Brussels, Cairo, Moscow, New Delhi, New York, São Paulo, and Zurich.
The Cairo Liaison Office of Freie Universität Berlin had the pleasure to celebrate this special occasion on the 30th November 2021 with Freie Universität Berlin alumni from all around Egypt. Around 40 alumni were welcomed this evening by Ms. Hoda El Mahgoub, Head of the Cairo Liaison Office followed by welcoming words by Ms. Isabell Mering, Director of the DAAD Regional Cairo Office. Prof. Dr. Günther Ziegler, President of Freie Universität Berlin, through his video message, welcomed all alumni by giving them an insight on the background of the Ernst Reuther Day and the importance of the alumni to Freie Universität Berlin. To round up the welcome messages, Prof. Dr. Beatrice Gründler, Chair of Arabic language and literature at Freie Universität Berlin logged in through Webex to give a very interesting speech on the importance of the Arabic language and the various activities that have been implemented over the past years in spite of the pandemic.
The highlight of the evening was the speech of H.E. Frank Hartmann, Ambassador of the Federal Republic of Germany to Egypt, who took the alumni on an exciting journey through his career ever since he started his studies at FU Berlin till he arrived in Cairo as the ambassador of Germany.
Another highlight of the evening was the panel discussion titled: "Post-Corona: Transformation in Higher Education!" Prof. Dr. Moemen Hanafy, Ambassador Scientist of the Alexander von Humboldt Foundation in Egypt, Dr. Nadine Abdalla, Assistant Professor of Sociology at the American University in Cairo, Ms. Mona Ayoub from the German - Arab Chamber of Industry & Commerce and Ms. Yasmina Suleiman from the Goethe-Institute Cairo were tackling several important questions during the panel discussion such as how the pandemic affected academic and research careers, how the future of academic studies, teaching and research in times of digitalization and global crises over the past two years can be described, what the impact of the pandemic had on the job market and many more. Their input led to a very healthy discussion among the panelists as well as the attending alumni.
The networking dinner after that gave our alumni a great opportunity to continue the discussions and to have more space for networking and connecting with each other.