Building a Network of European Korean Resource Specialists
17.05.2018
Building a Network of European Korean Resource Specialists
Campus Library at Freie University Berlin with kind support of the Korea Foundation took the initiative and invited European Korean Studies librarians to Berlin in order to develop a professional network within Europe and strengthen the representation of interests of Korean Studies librarians in national and worldwide library information structures.
While there are already institutionalized networks of Korean Studies librarians in North America as part of the Council on East Asian Libararies (CEAL) and in Europe for Japanese Studies librarians (EAJRS, https://www.eajrs.net/) and Chinese Studies librarians (EASL, http://www.easl.org), there was no forum for a professional exchange of Korean Studies librarians on a European nor a national level.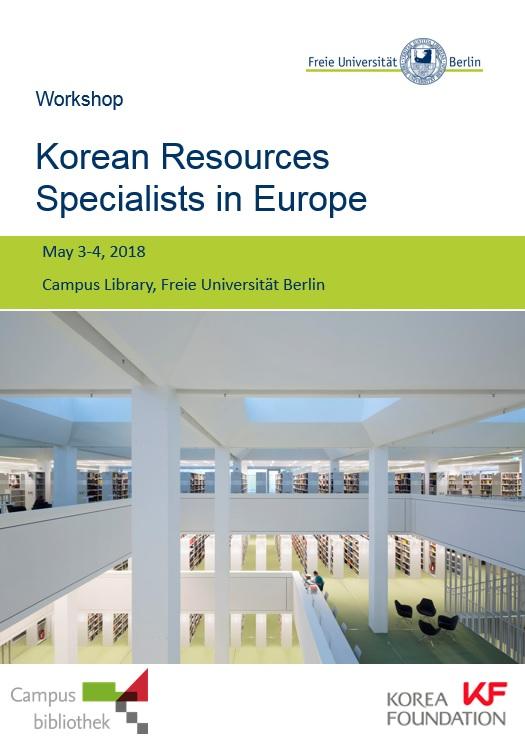 The workshop took place at Campus Library on May 3rd to 4th, 2018 .21 Participants from eight European countries attended the kick-off meeting. Besides discussing first solutions in different working groups, we founded the European Network of Korean Resource Specialists (ENKRS).
The new network will help to disseminate expertise on resources in Korean available to European libraries.
As part of the network a website is in development and a mailing list as well as a virtual working environment within crossasia.org have been established,
To fulfil the aims the ENKRS will hold an annual conference. The next conference in 2019 will take place in Sheffield.
To join the network write to: eu-koreanlibrarynetwork@lists.fu-berlin.de.