German Language Courses
| | |
| --- | --- |
| Instructor | Doaa Atteya, Dr. Agata Czarkowska, Jerrold Freitag, Kristina Folz, Nicole Galle, Wolfgang Krewe, Katrin Mensing, Anja Rockel, Susanne Sichting, Christine Weber-Neumann, Thomas Wiederhold |
| Credit Points | 6 ECTS / 3-4 U.S. credits for "Experiential Beginning German", 9 ECTS / 6-8 U.S. credits for the combined 2-level Intensive German option |
| Note | |
Links
Although the FU-BEST program does not have a German language prerequisite, each participant in the program is required to enroll in German on-site. Those who are (or intend to become) German language majors/minors at home and/or have any demonstrated prior knowledge of German beyond the absolute beginner level need to enroll in our double-course ("Intensive") German language program, which involves 12 hours per week (Monday through Thursday, 9 a.m. until noon) for 12 weeks. These students will normally complete 2 levels of German language training in the course of the semester. The decision regarding transfer to the next language level depends on the result of the student's midterm exam (which thus serves as a final exam for the first part of this two-course track).

In addition to the double-course intensive track, the FU-BEST program also offers a single-course track of "Experiential Beginning German" for non-majors/non-minors with no prior knowledge of German only, comprising 6 hours of instruction per week (Monday and Thursday, 9 a.m. until noon) and a local field-trip featuring applied language learning every other week. Non-majors/non-minors may, however, also sign up for the double-course intensive track (Beginner level) instead, if they wish.
Each language section features a midterm exam, a final exam, quizzes, and regular homework. The language program utilizes resources and hands-on experiences available in the Berlin area, particularly in the form of course-related local field-trips.
The FU-BEST program awards workload-based ECTS (European Credit Transfer System) credits. 1 ECTS requires 25-30 hours of workload. FU-BEST participants receive 9 ECTS for successful completion of the Intensive German and 6 ECTS for "Experiential Beginning German", with the exact number of credits to be transferred left up to participants' home institutions to decide
Our teaching books, methods, and additional materials conform to the standards of the Common European Frame of Reference for Languages (CEFR) which are by and large comparable to the standards for Foreign Language Learning of the American Council on the Teaching of Foreign Languages. Communication, the acquisition and improvement of all linguistic competences and of self-correction strategies, cultural context and a steep progression play an essential role in our curriculum. In our Intensive German language instruction, we use Netzwerk and Mittelpunkt of the Klett Verlag ; in "Experiential Beginning German", we use Klett's Netzwerk A1. The links above are intended for use by German language faculty at North American colleges and universities whose students plan to participate in the FU-BEST program, in order to facilitate advising and program review. Please contact the program at fubest@fu-berlin.de with any questions or concerns.
NOTE: Please download the extensive curriculum and course descriptions available at this website for detailed information in German and English concerning the various levels of language instruction available: Experiential Beginning German, Beginner 1, Beginner 2, Intermediate 1, Intermediate 2, Intermediate 3, Advanced 1 and Advanced 2. The distinctions between competency levels prevalent in North America do not always easily match what is common in Germany. However, using a three-step placement process, we will place FU-BEST participants in the German level which best fits their abilities and which ensures the biggest possible progress during their stay in Berlin.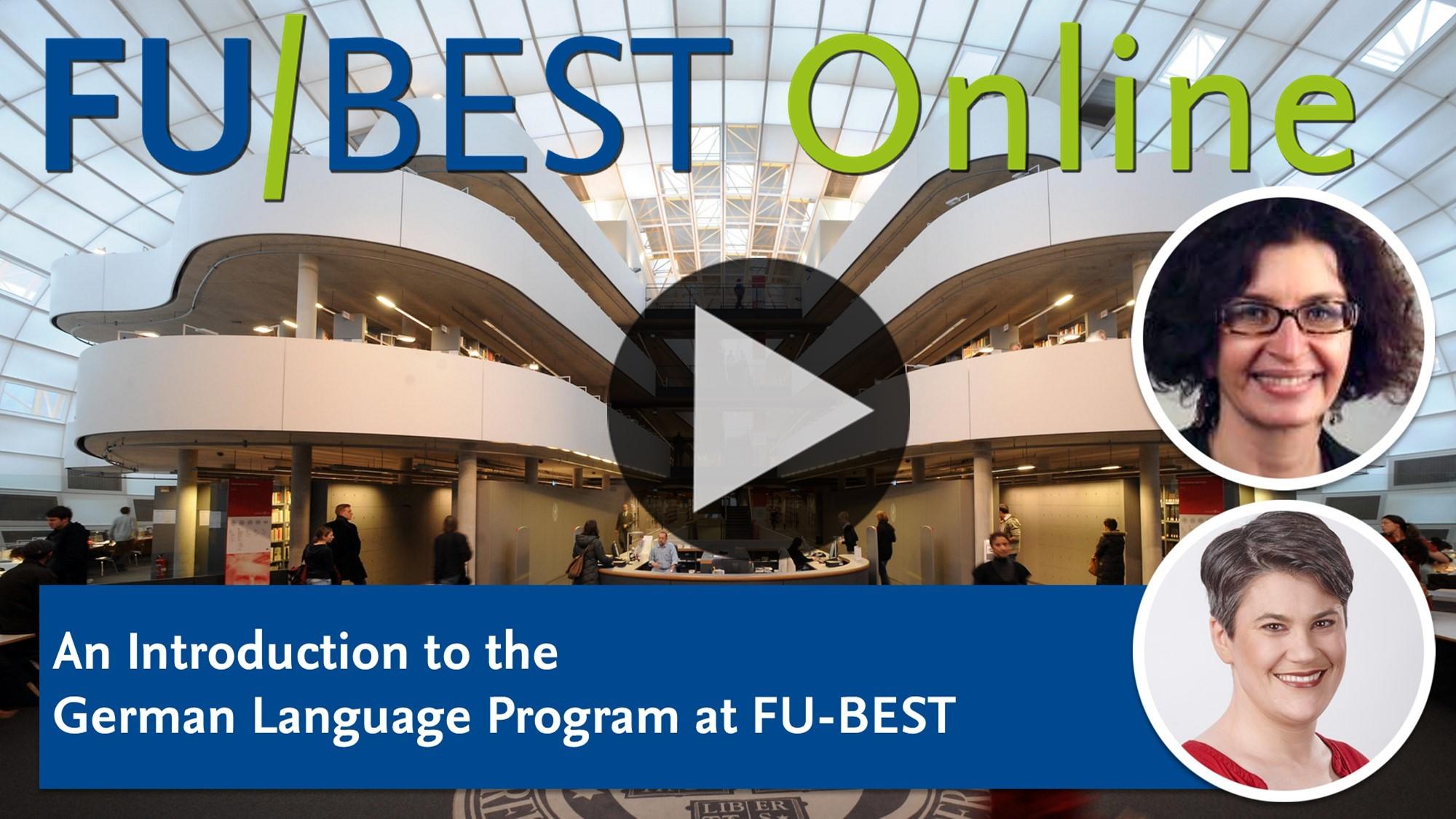 Introduction to the German Language Program at FU-BEST (click to watch on Youtube).