October 3, 2020 Special: April Eisman and David F. Patton Reflect on German (Re)Unifcation
News from Oct 02, 2020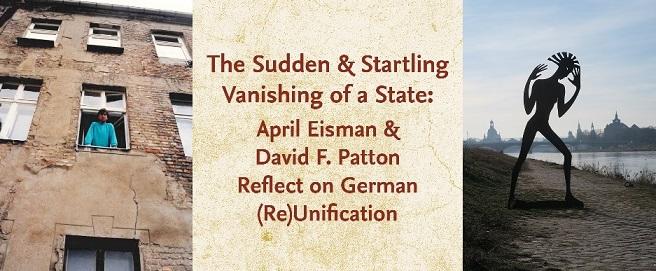 German (Re)unification proceeded with startling speed. Not even a year after the Fall of the Wall and six months after the first free elections in the GDR on March 18, 1990, the Unification Treaty was signed on September 20, 1990. It declared the accession of the GDR to the Constitution of the Federal Republic of Germany according to Article 23 of German Basic Law, the German constitution. Effective on October 3, 1990 the end of the East German state was sealed.
For our 30th anniversary (Re)Unification Special April Eisman and David F. Patton, two distinguished scholars and Berlin Program Alumni, reflect on the complexities of this momentous process which has not only dramatically shaped Germany, but has been a catalyst for change in Europe as well. The introduction uses (re)unification to illustrate that both terms are used widely, and almost interchangeably, despite the little big difference. Read our Special with essays by: 
April Eisman, Associate Professor of Art and Visual Culture at Iowa State University and Berlin Program Fellow 2004/05. April teaches art history with an emphasis on contemporary art and theory. In her research, she specializes in East German art and its reception. In this essay, she examines the impact of unification on the eastern German artist Angela Hampel (b. 1956), who was known on both sides of the Wall in the 1980s for her Neoexpressionist paintings of strong women from mythology and the Bible and for her commitment to gender equality.
David Patton, Joanne Toor Cummings '50 Professor of Government and International Relations at Connecticut College and Berlin Program Fellow 1989/90.
David teaches comparative politics, contemporary Europe, the European Union, nationalism and ethnic conflict, and the Cold War. In his research, he specializes on German party politics, political regionalism and German foreign policy. In this work, he examines the political process of unification with the added perspective of a participant observer.