Using the Course Catalog
The new course catalog offers various ways to find courses quickly. You can access your course either via the institution-specific main navigation features, the search function, or the A-Z overview of subjects.
Regardless of which level you are on, the quick search function is always located in the upper right on every page. Please note that the search function is dependent on the semester, so if you are in a past semester, the quick search will find exactly the courses that were held during that semester.
You can enter multiple search terms in the search field. You can also search for the just the start of a word. The search engine searches the "Title" (Titel), "Instructor" (Dozent), and "Course Number" (LV-Nummer) fields.
Quick search examples:
Entering "psychology" as a search term will find all entries containing this word.

Entering "Schneider" as a search term will find all courses held by any person with this last name.

If you enter a defined course number, that course is displayed right away.
If there are no entries containing the exact search term you entered, the search term is used as the start of a word. Examples:

Entering "national" as a search term finds all entries containing words that start with "national," such as "nationalism."

Entering "diet" as a search term will find all courses offered by instructors with names such as "Dieter," "Dietmar," or "Dietrich."

If you search for "1200," the system finds all courses starting with this number. Please note: If the number range you search for happens to be similar to a number contained in a course title (e.g. "1945"), just this course will be found.
Advanced search:
You can also use the drop-down menu to access the advanced search function, which offers you more settings and filtering options. If there are a lot of results for your search, you can use filters to limit the results displayed. The page itself contains an overview of all search criteria.

You can also change your search results by using the menus on the right-hand side to
change to a different semester,

restrict results to a specific department, or

display only courses falling within a specific category (lecture (Vorlesung), seminar, etc.).
Searching for course offerings in specific languages:
If you wish to search for courses in specific languages, select the language and the provider (Anbieter, generally the department). You do not need to enter a search term in this case.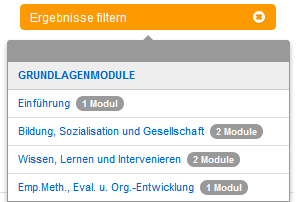 Clicking just two links will take you to the "Subject" (Studienfach) level, where you can see all courses offered in this subject from within the study regulations selected. This page may be very long in some cases. To limit the results, use the filter functions to choose a specific "phase" or even a "concentration" (Schwerpunkt) for your program. This will shorten the list right away. The filter function also tells you how many modules are included in the relevant area.
You can access the print view by clicking the printer symbol at upper right in the application. The print view was designed specifically to show any hidden information or information from lower levels on a planar and printer-friendly basis for later printing. The print view opens all hidden text modules (comments, references to reading materials, etc.) and reformats them accordingly.
The print view is accessible from any level; you can even use it to generate a printer-friendly list of search results.
Links
Every level and almost every status in the online course catalog can be reached via a defined URI (Uniform Resource Identifier). Every navigation or search in the course catalog automatically generates a corresponding URI in the browser's address bar. This information can be used as a link across multiple applications (such as in the CMS, but also in any e-mail or chat application). An instructor or editor who wants to create a link to a course has several options:
Using the old course catalog (up to the 2012 summer semester)
Finding current courses
You can enter multiple search terms in the search field. You can also search for the just the start of a word. The search engine searches the "Title" (Titel), "Instructor" (Dozent), and "Course Number" (LV-Nummer) fields.

For a detailed description of search options, please see www.fu-berlin.de/vv/search.
Finding courses from past semesters
You can also find courses from past semesters. To do so, click "Semester" in the navigation menu and select the appropriate semester, or change the semester selection that applies to your search results.
If you are looking for courses from the period before the 2012/13 winter semester, you can find information on earlier semesters here: http://myvv.fu-berlin.de/vorlesungsverzeichnis
Save current view or share current view with others
You can save the current view as a bookmark or favorite (Lesezeichen). Simply use your browser's bookmarks or favorites feature to do so. If you would like to share the view with someone else, you can copy the contents of the address bar to an e-mail, for example.
Abbreviations
| | |
| --- | --- |
| Abt. | division (Abteilung) |
| ABZ | ZEDAT Schooling and Advice Center (Ausbildungs- und Beratungszentrum) |
| AG | working group (Arbeitsgemeinschaft) |
| apl. | unscheduled (außerplanmäßig) |
| BP | vocationally oriented internship (berufsorientiertes Praktikum) |
| CBB | Berlin-Buch Campus |
| CBF | Benjamin Franklin Campus |
| CCM | Charité Mitte |
| CVK | Virchow-Klinikum Campus |
| C | Colloquium |
| CeDiS | Center for Digital Systems |
| cr | credit points |
| D | demonstration |
| DPO | regulations for the final examination for the degree of Diplom (Diplomprüfungsordnung) |
| E | field trip (Exkursion) |
| EK | introductory course (Einführungskurs) |
| em. | emeritus (emeritiert) |
| EP | empirical internship (Empirisches Praktikum) |
| Ex | examination preparation (Examinatorium) |
| FB | department (Fachbereich) |
| FK | subject-specific course (Fachkurs) |
| FMI | Friedrich Meinecke Institute |
| FR | subject (Fachrichtung) |
| FS | research seminar (Forschungsseminar) |
| GK | basic course (Grundkurs) |
| HFB | Henry Ford Building |
| Hon.Prof. | adjunct professor (Honorarprofessor/in) |
| HS | main seminar (Hauptseminar) |
| Hs | lecture hall (Hörsaal) |
| HSchlAss | university assistant (Hochschulassistent/in) |
| Inst. | institute |
| JFKI | John F. Kennedy Institute for North American Studies |
| K | course (Kurs, Kursus) |
| KHI | Department of Art History (Kunsthistorisches Institut) |
| Kk | course with written exam (Klausurenkurs) |
| kommiss. | provisional (kommissarisch) |
| KVV | course catalog with commentary (Kommentiertes Vorlesungsverzeichnis) |
| L | reading (Lektüre) |
| LAI | Institute for Latin American Studies |
| LV-Nr. | course number (Lehrveranstaltungsnummer) |
| m.d.W.b. | tasked with implementation (mit der Wahrnehmung beauftragt) |
| MPI | Max Planck Institute |
| n. V. | per agreement (nach Vereinbarung) |
| OA/OÄ | senior physician (Oberarzt/Oberärztin) |
| OAS | East Asian Studies Division (Ostasiatisches Seminar) |
| OEI | Institute for East European Studies (Osteuropa-Institut) |
| OS | upper division seminar (Oberseminar) |
| OSI | Otto Suhr Institute (Department of Political Sciences) |
| P | internship (Praktikum) |
| PG | project group (Projektgruppe) |
| Pj | Project |
| Pk | project course (Projektkurs) |
| Priv.-Doz. | lecturer (Privatdozent) |
| PS | Proseminar |
| PW | teaching workshop (Pädagogische Werkstatt) |
| Rp | refresher for examination preparation (Repetitorium) |
| RV | lecture series (Ringvorlesung) |
| S | seminar |
| s. A. | see posted notice (siehe Aushang) |
| Sfb | collaborative research center (Sonderforschungsbereich) |
| SK | language course (Sprachkurs) |
| SP | study project (Studienprojekt) |
| SPS | practical school studies (Schulpraktische Studien) |
| SR | seminar room (Seminarraum) |
| StR i.H. | Studienrat im Hochschuldienst (civil servant title) |
| SWS | weekly credit hours (Semesterwochenstunden) |
| T | Tutorium |
| Ü | exercise (Übung) |
| UP | practical teaching course (Unterrichtspraktikum) |
| V | lecture (Vorlesung) |
| W | guide to scientific and academic work (Anleitung zu wissenschaftlichem Arbeiten) |
| WE | scientific/academic institution (Wissenschaftliche Einrichtung) |
| Wiss.Ass. | scientific/academic assistant (Wissenschaftlicher Assistent/Wissenschaftliche Assistentin) |
| ZE | central service (Zentraleinrichtung) |
| ZI | central institute (Zentralinstitut) |
| ZEDAT | Computing Services (Zentraleinrichtung Datenverarbeitung) |
| ZUV | central university administration (Zentrale Universitätsverwaltung) |
Pictographs
| | |
| --- | --- |
| | Accessible parking |
| | Accessible entrance (no stairs) via ramp or directly |
| | Accessible restroom |
| | Elevator with at least 140 x 110 cm floor space |