Center for Continuing Education
The Center for Continuing Education provides academic and occupational continuing education programs for different target groups: one-day seminars as well as qualification programs lasting two years. There are many course offerings for the staff of Freie Universität, and most of them are also open to participants from outside the university.
Address
Freie Universität Berlin
Center for Continuing Education
Otto-von-Simson-Str. 13
14195 Berlin
<iframe src="https://www.google.com/maps/embed?pb=!1m14!1m8!1m3!1d4862.79502781571!2d13.288269939056057!3d52.45382792658203!3m2!1i1024!2i768!4f13.1!3m3!1m2!1s0x47a85a6c1dff247b%3A0x65922ae8482143b5!2sOtto-von-Simson-Stra%C3%9Fe+13%2C+Freie+Universit%C3%A4t+Berlin%2C+14195+Berlin!5e0!3m2!1sen!2sde!4v1412769602859" width="600" height="450" frameborder="0" style="border:0"></iframe>
Map
The complete map of the Dahlem campus can be downloaded as a pdf file.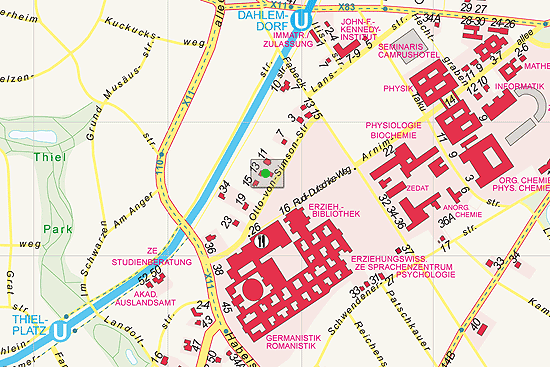 © Freie Universität Berlin