Henry Ford Building
The Henry Ford Building houses the state-of-the-art renovated Max Kade Auditorium, with a seating capacity of 1200, as well as lecture halls and conference halls for the Academic Senate. The building also holds an exhibition on the history of Freie Universität, "Future from the Very Beginning."
Address:
Freie Universität Berlin
Henry Ford Building
Garystraße 35
14195 Berlin-Dahlem
Homepage: www.fu-berlin.de/hfb
<iframe src="https://www.google.com/maps/embed?pb=!1m14!1m8!1m3!1d2431.734165917565!2d13.28030956942289!3d52.44773016268362!3m2!1i1024!2i768!4f13.1!3m3!1m2!1s0x47a85a400b944f81%3A0xed567a0692702e6d!2sHenry-Ford-Bau%2C+Freie+Universit%C3%A4t+Berlin%2C+14195+Berlin!5e0!3m2!1sen!2sde!4v1412769220016" width="600" height="450" frameborder="0" style="border:0"></iframe>
Map:
The complete map of the Dahlem campus can be downloaded as a pdf file.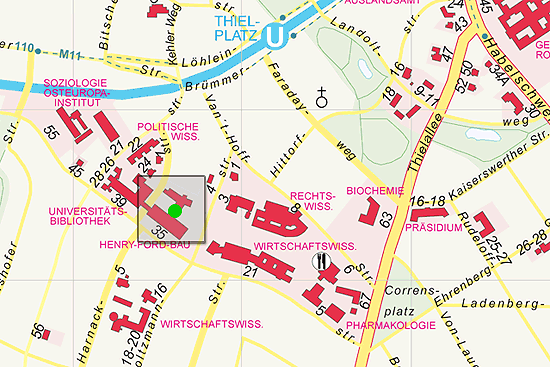 © Freie Universität Berlin