Learning Arabic in Cairo while experiencing Egypt!
Sep 11, 2018
A group of FU Berlin students were able to experience the Egyptian culture and life while intensifying their Arabic language skills.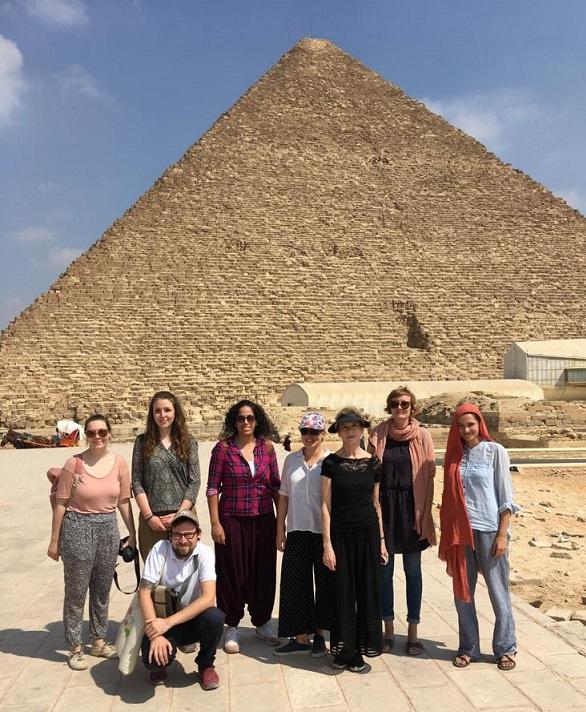 (Photocredit: Hoda El Mahgoub)
For several years now the Freie Universität Berlin has been cooperating with the Center of Excellence for German and Arabic as a foreign language (EZ-DAAF) at the Ain Shams University to offer an intensive Arabic course for its students of the Arabic language and literature and islamic science students as well as for students from similar disciplines.  The course is designed for students who have been studying the Arabic language for 2 years and includes elements of the classical, colloquial and Media Arabic. 
On 3rd September 2018 the Freie Universität Berlin Cairo Office had the pleasure of welcoming 6 students participating in this intensive course to an orientation and small get-together. The participants were welcomed by Ms. Hoda El Mahgoub, Head of the Freie Universität Berlin Liaison Office in Cairo who informed them about general information about living in Egypt such as the different accommodation and transportation options, means of communication, sightseeing options in Cairo as well as general security instructions.
The students stayed in Egypt for one month, during which they were not only able to learn more about the Arabic language while having the opportunity to practice it day in and day out but were also able to live the experience that a country like Egypt with its rich history gives. Beside experiencing living in an Arabic speaking country students did not miss the chance to visit the most important historic and cultural sights during their free time.