Lankwitz Campus
Earth Sciences
The Lankwitz campus is home to the Institute of Geological Sciences and the Institute of Geographical Sciences. The Department of Earth Sciences also comprises the Institute of Meteorology and the Institute for Space Sciences, which are located in Steglitz.
University Archives
The University Archives are also located on the Lankwitz campus.
Address
Freie Universität Berlin
Campus Lankwitz
Malteserstr. 74-100
12249 Berlin
<iframe src="https://www.google.com/maps/embed?pb=!1m18!1m12!1m3!1d2432.8849174081147!2d13.354074916081156!3d52.4268828797966!2m3!1f0!2f0!3f0!3m2!1i1024!2i768!4f13.1!3m3!1m2!1s0x47a85a6f68f59f35%3A0x5b5cd5ed179d7930!2sFreie+Universit%C3%A4t+Berlin+Institut+f%C3%BCr+Mineralogie+Fachbereich+Geowissenschaften!5e0!3m2!1sde!2sde!4v1445616333408" width="600" height="450" frameborder="0" style="border:0" allowfullscreen></iframe>
Directions
From Tegel Airport
Bus TXL direction Mollstr. /Prenzlauer Berg to subway stop Turmstr., change to the subway U9 direction Rathaus Steglitz to the end stop, change to bus X83 direction Nahariyastr. to Emmichstr.; travel time ca. 50 min.
From Schönefeld Airport
Regional train RE7 direction Wünsdorf-Waldstadt to Blankenfelde, change to the elevated train S2 direction Bernau to Schichauweg, change to bus X83 direction Königin-Luise-Str./ Clayallee to Emmichstr.; travel time ca. 45 min.
From Hauptbahnhof (Berlin Central Train Station)
Elevated train S7 direction Ahrensfelde to Friedrichstr., change to S25 direction Lichterfelde Süd to Lankwitz, change to bus X83 direction  Nahariyastr. to Emmichstr.; travel time ca. 30 min.
Map
The complete map of the Lankwitz campus can be downloaded as a pdf file.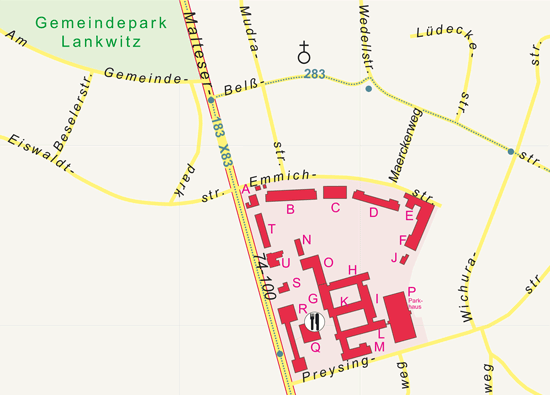 © Freie Universität Berlin