European Prize in Combinatorics for Alumnus of Freie Universität Berlin
Karim Adiprasito Honored in Bergen, Norway / with Press Photo
№ 260/2015 from Sep 04, 2015
An alumnus of Freie Universität is making rapid progress in his career: Karim Adiprasito, 27, is one of three young men to be awarded the European Prize in Combinatorics at the Eurocomb conference in Bergen, Norway. These prestigious prizes are awarded every two years and include a monetary award of 2,500 euros. Adiprasito earned his doctorate two years ago at Freie Universität Berlin and is currently a professor of mathematics at the Hebrew University in Jerusalem. In December 2014, the highly talented young mathematician was awarded an Ernst Reuter Prize from Freie Universität Berlin for his outstanding dissertation.
The 27-year-old Karim Adiprasito has already achieved some major milestones. While still in secondary school, he completed most of the lectures required for a degree in mathematics so that in April 2010, after only two and one-half years at the university – including a year at IIT Bombay – he had his first degree in mathematics. A native of Aachen, Adiprasito then moved to Berlin and completed his doctorate within two and one-half years at the Methods for Discrete Structures (MDS) research training group headed by Prof. Günter M. Ziegler at Freie Universität Berlin.
"With his doctoral dissertation that culminated in a construction for exceptional 69-dimensional polyhedra, Karim Adiprasito solved a geometric problem that dates back to the 18th century," Ziegler emphasized. Adiprasito's dissertation earned a summa cum laude, the best possible grade, and also resulted in a 72-page publication in Inventiones Mathematicae, one of the best mathematics journals in the world. This was followed first by postdoctoral positions in Paris, Princeton, and Jerusalem and then "after more outstanding mathematical ideas and problem solving, the professorship in Jerusalem," says Ziegler. "I am very pleased about the prize," says Adiprasito. "It is wonderful for a young researcher to get so much recognition from his established colleagues."
The prize was set up in 2003 to recognize excellent contributions by young European researchers (not older than 35) in the fields of combinatorics, discrete mathematics, and their applications. Adiprasito received the European Prize in Combinatorics at the beginning of the European Conference on Combinatorics, Graph Theory and Applications (Eurocomb). The Eurocomb is taking place this year from August 31 through September 4 in Bergen (Norway). The conference is held every two years. The first one was in Barcelona in 2001 and in 2005, it took place in Berlin.
Links to Further Information
Press Photo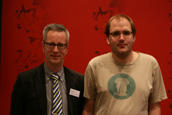 The press photo is available free of charge for representatives of the media to use in connection with this press release and provided that due credit is given to the photographer Pål Grønås Drange / Eurocomb 2015.