The Feminine View
Vernissage in Confucius Institute at Freie Universität on May 6, 2015
№ 122/2015 from May 04, 2015
"The Feminine View" is the theme of an exhibition to be opened on May 6, 2015, at the Confucius Institute at Freie Universität. Two Chinese women artists, Wang Lan and Yu Simiao, who both have been living in Germany for several years, will be displaying a random selection of recent works. With regard to a specifically feminine approach in their work (female ideals of beauty and identity), the two artists have very different artistic concepts and each has her own creative identity. The exhibition will run until October 21, 2015. The opening event on May 6 at 6 p.m. and the exhibition are both open to the public, and admission is free.
Wang Lan comes from Guizhou Province, where she began her training in traditional Chinese painting. In Germany, she studied textile design at the Kassel Art Academy. What is striking in her work is the voluptuous female characters who do not conform to the classic image of the delicate Chinese woman or the Western Barbie. Her artistic work is characterized by large-format images with textile elements and colorful embroidery, which reflects Wang's origin from the area of the Miao minority.
Simiao Yu, born in 1986, first studied art education and art history in Munich, and later studied art at the Academy of Fine Arts in Braunschweig. A versatile artist, she draws, takes photographs, and works with objects and installations. In this exhibition she is displaying some works devoted to the theme "image of humans."
In connection with the exhibition, the artist Wang Lan will be conducting a three-hour painting workshop on Sunday, May 10, 2015, in which she will introduce the philosophical foundations of Chinese ink painting, the various styles of painting, and the significance of the materials. Registration for the workshop is possible on the website of the Confucius Institute.
Press Image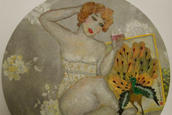 Dreams in Spring – Wang Lan
The photo is available for download by representatives of the media. There is no charge for using the photo in the context of this press release, provided the photograph is named. Image Credit: Wang Lan.
Time and Location
Exhibition Opening: "The Feminine View": Wednesday, May 6, 2015, 6 p.m.
Exhibition: "The Feminine View": Thursday, May 7, 2015 through Wednesday, October 21, 2015, Monday through Thursday, 2 p.m. to 6 p.m.
Painting Workshop: Sunday, May 10, 2015, 11 a.m. to 2 p.m.
Confucius Institute at Freie Universität Berlin, Goßlerstraße 2 – 4, 14195 Berlin. train station: S-Bahnhof Lichterfelde-West (S1)