Horse Whisperer to Visit Freie Universität Berlin on Easter Monday
Californian Horse Trainer Monty Roberts Will Be at the Equine Center in Bad Saarow on April 6, 2015
№ 083/2015 from Mar 30, 2015
Monty Roberts, the man who speaks with horses, along with his certified instructors will be in the Equine Veterinary Center in Bad Saarow on April 6, 2015, to demonstrate the training concept Join-Up® that he developed for dealing with rough and traumatized horses. During the event, Monty Roberts will analyze and comment on horses. During breaks he will be available to answer questions. The event will be held in English and will be simultaneously translated into German. The entrance fee is 44 euros for seats in the stands and 56 euros for seats in the round panel, plus 3 euros handling charges. Admission is free for media representatives.
During the course of his life, Monty Roberts has worked as a rider, stuntman, trainer, breeder, and teacher. When asked how long he has been working with horses, the 80-year-old now says, "Oh, I started working in the horse business at the age of three." At the age of 13, he started observing wild mustangs in the Nevada desert and began to understand how horses communicate with each other. Since that period, he has been developing the Join-Up® concepts, which are extremely efficient because they are based on the language of horses and do not presuppose that a flight animal can understand human behavior. (Flight animals rely on running as their primary defense.)
Monty Roberts' expertise is highly regarded in Germany, in particular by those involved in horse racing. Well-known companies such as the Fährhof stud farm near Bremen have been using his scientifically proven methods for the past 20 years to train horses, and they consult him on a regular basis as a professional advisor. Since 1989, Monty Roberts has been training the royal horses of Queen Elizabeth II, and in 2011 he was honored for these services with the Royal Victorian Order. Since 2012 Queen Elizabeth II has been a patron of Monty Roberts' Join-Up® International organization.
Now the "horse ambassador" is coming to the Equine Veterinary Center in Bad Saarow, where one of his certified instructors, Franziska Görwitz, is employed. Görwitz is a researcher at the Equine Veterinary Center in Bad Saarow, which is an institute of Freie Universität Berlin's Department of Veterinary Medicine. She also teaches in the bachelor degree program being offered at the Equine Center since the fall of 2014, and in particular, places emphasis on species-appropriate handling of horses. Through Görwitz, these training methods, which are based on the natural behavior of horses, are made an integral part of the teaching and research being done at the Equine Center. Through courses offered outside the degree program, this knowledge is also passed on to individuals with horseback riding or racing as a hobby, breeders, and veterinarians.
The Equine Center in Bad Saarow, which was opened in 2014, is the only one of its kind in Europe. It practices reproductive medicine and horse breeding, with particular emphasis on species-appropriate handling of horses. Young horses are also trained for riding. The director of the Equine Center is Johannes Handler, a professor at Freie Universität Berlin specialized in reproductive medicine and imaging techniques in the horse. Embryo transfer, semen (fresh and frozen), and national and international shipping are just a few of the products on offer. The 13-hectare site with state-of-the-art facilities geared to the welfare of the animals, include a 1600 square-meter indoor riding arena, outdoor jumping arena, and round pen as well as an area for boarding horses.
Time, Location, and Tickets
Monday, April 6, 2015. The doors open at 6 p.m. The event starts at 7 p.m.
Pferdezentrum Bad Saarow, Silberberg 1, 15526 Bad Saarow.
Tickets are available online at: www.montyroberts-tournee.com
Press Image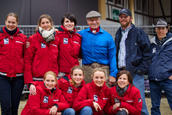 Monty Roberts and his instructors
The photo is available for media representatives to download and use free of charge in the context of the press release, provided due credit is given to the photographer, Katrin Junker.
Further Information
Event manager: Petra Moser, Tel. (mobile): +49 173 5495063, Email: petra@montyrobertstournee.com
Interview requests: Katrin Junker, Tel. (mobile): +49 178 2084750, Email: katrin@montyroberts-tournee.com
Information about the Equine Center: Johannes Handler, Director, Equine Veterinary Center, Bad Saarow, Equine Clinik: Surgery and Radiology, Freie Universität Berlin, Tel. (mobile): +49 151 12673217, Email: johannes.handler@fu-berlin.de
Links to Further Information