"An Assembly Line for Medications"
One of the most important HIV medications, Efavirenz, can now be produced faster, more cost efficiently, and more sustainably utilizing continuous flow chemistry.
№ 045/2015 from Feb 23, 2015
Researchers at the Max Planck Institute of Colloids and Interfaces (MPICI) and Freie Universität Berlin have succeeded in developing better methods of producing APIs (active pharmaceutical ingredients). As a result, Efavirenz, one of the preferred agents for treating HIV in combination therapies, can now be produced using a concise continuous flow method. This process may fundamentally change the way APIs are produced.
Today, virtually all active pharmaceutical ingredients (APIs) are produced using multiple distinct processes in "batch." This means that all ingredients react in a pot, pretty similar to the method of cooking. "Continuous flow" means the reaction takes places while the chemicals move through a "pipe" or some tubing – conceptually similar to a conveyer belt. In this way, the reactions are safer and more efficient.
Flow chemistry has fundamental advantages when compared to other methods. The target product can be produced in a faster, more cost efficient manner and, more often than not, with better product quality. The smaller amounts of chemicals reacting in flow devices don´t lead to smaller production charges. In principle this can be compared with a bucket under a dripping faucet. The bucket can be filled opening the faucet (fast), but over time constant dripping (slow) will lead to the same effect. In reality, the total time consumption leading to a similar amount of API is comparable, but in flow the reaction needs less investment and exhibits a much higher degree of control.
In addition to producing single medications such as Efavirenz continuously, a single, modular reactor can be used to produce patented and generic medicines such as lyrica, gabapentin, and baclofen – used to treat general anxiety disorder, epilepsy, and spasticity, respectively. The total value of the medications sold each year exceeds five billion euros. These medications belonging to three different structural classes (-amino acids, -lactams and β-amino acids) were produced by just changing the order of reactors.
Most commodity products, including cars, are produced by using assembly lines. The Max Planck researchers demonstrate for the first time that a modular assembly line system for the production of important medications can work. Prof. Dr. Peter H. Seeberger emphasizes, "Our modular flow technology will fundamentally change the way APIs are produced. We have demonstrated that the conceptual breakthrough now yields better access to life saving drug substances such as the HIV medication Efavirenz. In a next step these processes will have to be industrialized."
Dr. Kerry Gilmore, group leader of the "flow chemistry" team adds, "What is truly revolutionary about this approach is not the incremental advance in reactor technology, but the conceptual leap of synthesizing a range of products using a single modular setup, allowing access to multiple medicines without the need for multiple production facilities."
For the key step of the synthesis of Efavirenz a readily available and harmless copper catalyst was used, substituting toxic chemicals such as phosgene, a chemical warfare agent.
Dr. Camille Correia, from the South American country of Guyana, the key chemist in the synthesis of the HIV medication, hopes the effort of the team will have an impact. She said, "We were able to produce the medication in three chemical steps in less than two hours. To the best of our knowledge this is the most cost efficient and fastest method available. Unfortunately Efavirenz is often too expensive for patients in developing countries. We hope our effort helps to lower the market price for life saving drugs."
Literature
A Concise Flow Synthesis of Efavirenz
10.1002/ange.201411728 (Angewandte Chemie)
10.1002/anie.201411728 (Angewandte Chemie International Edition)
Chemical Assembly Systems: Layered Control for Divergent, Continuous, Multistep Syntheses of Active Pharmaceutical Ingredients
DOI:10.1002/ange.201409765 (Angewandte Chemie)
DOI: 10.1002/anie.201409765 (Angewandte Chemie International Edition)
Press Image
Media representatives may download the photo for use in reporting this news, provided due credit is given to Sven Jungtow.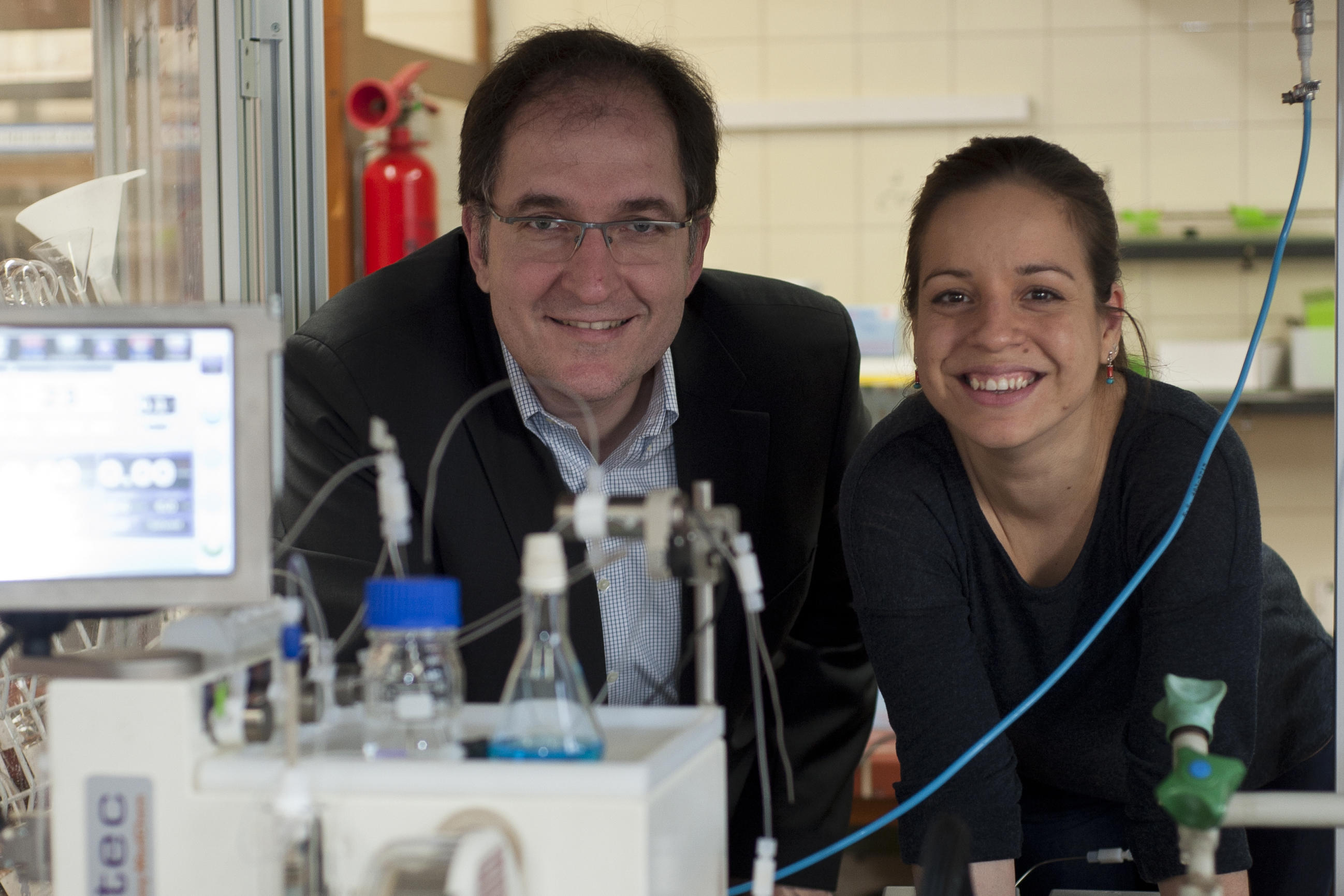 Achieving flow conditions: Prof. Dr. Peter Seeberger and Dr. Camille Correia. Photo credit: Sven Jungtow