Learning from a Writer
Columbian Writer, Translator, and Journalist Héctor Abad to Be Samuel Fischer Visiting Professor at Freie Universität Berlin during Spring/Summer Semester 2014
№ 090/2014 from Mar 19, 2014
The Columbian writer, translator, and journalist Héctor Abad will be teaching literature at Freie Universität Berlin during the 2014 spring/summer semester 2014. He is the 31st Samuel Fischer Visiting Professor at the Peter Szondi Institute of Comparative Literature and will be teaching a seminar entitled "Literatura y Violencia" (Literature and Violence).
Héctor Abad is one of the most important contemporary Latin American writers. He is best known for the highly acclaimed novel Angosta and the memoir El Olvido que Seremos (Oblivion: A Memoir, 2010). Only two other of his books have been translated into English so far: Asuntos de un Hidalgo Disoluto (The Joy of Being Awake, 1996) and Tratado de Culinaria para Mujeres Tristes (Recipes for Sad Women, 2012), though numerous of his works have been translated into Portuguese, Italian, German, French, Dutch, Chinese, and Greek. Abad works as a journalist for prestigious journals and magazines including Cambio, a magazine published in Columbia that was co-founded by the Nobel laureate Gabriel García Márquez, and El Espectador, a daily newspaper published in Bogotá. Abad is co-editor of the latter. He writes regularly for two European papers, El Mundo and Lettre. Abad worked as a lecturer in Spanish at the University of Verona, and he has translated works by Giuseppe Tomasi di Lampedusa and Umberto Eco, among others. He has already been a visiting lecturer or professor at numerous universities including Columbia University, Pennsylvania State University, Università di Bologna, and Università di Firenze. Héctor Abad has won several literary awards and grants including the Premio de Literatura Innovadora de la Casa de América de Madrid (Award for Innovative Literature from the Casa de América in Madrid) for his novel Basura (2000). In 2006 and 2007 he spent a year in Berlin through a DAAD fellowship. He currently lives in Medellín, Columbia.
The Samuel Fischer Visiting Professorship was set up in 1998 at the Peter Szondi Institute of Comparative Literature by the S. Fischer Verlag, the German Academic Exchange Service (DAAD), Freie Universität Berlin, and the Lecture Forum of the Georg von Holtzbrinck Publishing Group. Each semester an internationally acclaimed writer from abroad teaches a course at Freie Universität Berlin as a Samuel Fischer Visiting Professor.
Time and Location
Wednesdays, 2 p.m. to 4 p.m.; starting date: April 16, 2014.
Room KL 32 / 202, Habelschwerdter Allee 45, 14195 Berlin, subway station: U-Bahnhof Thielplatz (U3).
Press Photo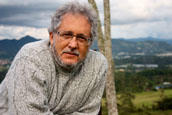 Héctor Abad.
The photo is available for download by representatives of the media. It may be used free of charge in connection with reporting the information in this press release and provided that due credit is given to the photographer, Daniela Abad.
Further Information
Prof. Dr. Claudia Olk, Peter Szondi Institute of Comparative Literature, Freie Universität Berlin, Tel.: +49 30 838-564 18, Email: claudia.olk@fu-berlin.de.