Individual Workstations
The library has 680 individual workstations on 5 levels, 52 of which are equipped with computer terminals (thin clients) that feature Open Office.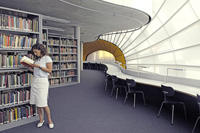 On Level ―1, FU members have access to 13 computers with standard Office programs.
On Level 3, there is a reading lounge for relaxed reading.
A notebook-free zone on Level 2 allows for undisturbed reading and working.