Freie Universität Berlin promotes Medical Anthropology in the region
16.10.2018
A 2 day workshop on medical anthropology organized by the DAAD COSIMENA Program with the support of Freie Universität Berlin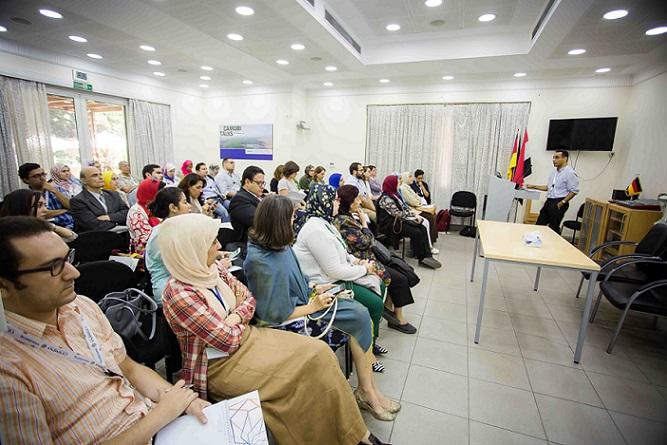 (Photocredit: DAAD/Michael Asaad)
The DAAD COSIMENA Program organized with the support of Freie Universität Berlin the first workshop evolving aroundsocial science in Medicine. On June 25th -26th medical professionals as well as students in medical and social sciences attended this 2 day workshop on medical anthropology, a sub discipline of social and cultural anthropology that emerged in Western Europe and North America in the 1960s.
One of the key objectives of the workshop, besides introducing basic medical anthropology principles, was to contemplate about its introduction in the Egyptian medical and social sciences curricula. Hence, for 2 days medical anthropologists from Freie Universität Berlin, from Austria and from Egypt addressed two different groups to make sure to deliver a tailor made message according to the audience. Freie Universität Berlin was represented by Dr. Mustafa Abdalla, the actual initiator of this workshop who is a Research Associate at the Institute of Social and Cultural Anthropology as well as Dr. Nasima Selim, a medical doctor, who branched out to medical anthropology later on in her career. "With this workshop on medical anthropology, I wanted to reach out to people working in remote universities and in difficult conditions, and people coming from all parts of Egypt," explained Abdalla during his speech. Abdalla and Nasim both confirmed during the workshop on 25th June the importance and relevance of introducing this concept into the region and furthermore informed how to bridge the gap between medicine and anthropology by giving different examples from different parts of the world.
On the next day, the medical anthropology experts addressed the medical and social science students. A group of 40 to 50 students gathered at the DAAD to listen to variouspresentations and participate in a variety of dynamic exercises. From the onset, they were encouraged to be as participatory as possible and their active participation actually showed how immensely interested they are in this topic.
As a first result various Egyptian medical faculties already expressed their interest in introducing this topic into their curricula while students from Egypt and Sudan are already looking forward to further activities to deepen their knowledge of Medical Anthropology.
Watch the photo gallery here