Phrase Queries for Subject Search
Preamble
The library portal Primo contains data from multiple sources. That causes some degree of heterogeneity in indexing, which, unfortunately is inevitable:
In subject-related searches you will always find parts of the available literature only, depending on the strategy employed.
Search by subject in Articles+
Articles+ is a data pool that combines data provided by a large number of external sources. There is no common set of rules governing the subject information for the records in Articles+. Searching the database with English-language subject terms (tags / keywords / subject headings) will produce the largest number of results.
If a search across all categories produces to many results, try a search combinig the categories Title and Subject. Note that if you use this approach, abstracts will not be analyzed; abstracts are taken into account in searches across all fields only.
Example: Title = "arab spring" OR Subject = "arab spring" OR Title = "Arabischer Frühling" OR Subject = "Arabischer Frühling"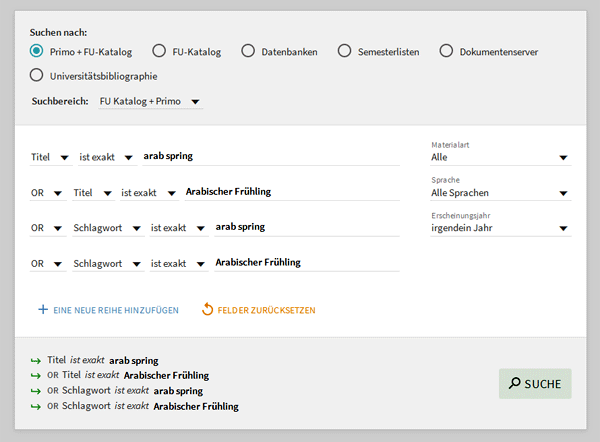 ♥ Primo will return results that contain the phrase "arab spring" or "Arabischer Frühling" either in the title or in the subject-term fields.
Subject search in FU Catalog
Search with subject headings
Most Freie Universität libraries index monographs and journals by applying authorized German-language subject terms, so-called subject headings, according to the rules used in many libraries throughout Germany (Regeln für die Schlagwortkatalogisierung, RSWK). Beyond the information contained in the title and independent of the source language, subject headings give an indication of a source's content in standardized German terms.
Subject headings are part of the full record. By clicking on them, you can start a new query to search for sources that have been indexed with the same heading.

Example:
Title: Der Schlaf der Vernunft / Peter André Alt
Subject headings: Literatur; Traum; Kultur; Geschichte; Europa; Geschichte 1450-1950
A note concerning items that were added to Freie Universität library holdings before the introduction of electronic cataloguing: The original subject headings could not be preserved in the catalog-conversion process when the original catalog cards were scanned and scanned records were turned into electronic records. However, by means of (semi-) automated procedures, a large part of the resulting records have meanwhile been enriched with headings provided in electronic format by other libraries.
The original subject headings for University Library books are preserved in the Old Subject Catalog (Alter Schlagwortkatalog – containing the images of scanned subject-cataog cards for holdings up to about 1990).
The original subject headings for books in the former Romance Languages and Literature Library are preserved in the Romanistik Subject Catalog (Schlagwortkatalog Romanistik).
Finding authorized vocabulary – in the online GND

The Integrated Authority File (GND, Gemeinsame Normdatei) contains all descriptors that are admitted in subject headings, i. e. authorized subject terms. That is where you can look up the preferred vocabulary for subject-heading searches.

Hints related to subject-searches for e-books
As a rule, e-books are not indexed by libraries. If any subject terms are provided in catalogs, they have been added as a part of bibliographic data delivered by publishers. However, e-book records frequently contain abstracts, which can be searched in queries across all fields – a very useful strategy in many cases.
---
Codes from subject-classification schemes

Searching by RVK classifcation codes
In the Freie Universität library system, Regensburg Classification (RVK) is used mainly at the Philological Library, at the Library for Social Sciences and East European Studies, at the Campus Library, and in the University Library Reading Room. The purposes of applying RVK codes are both the enhancement of discoverability in the catalog and the display of holdings on the shelves according to classification.
At the University Library, the Reading Room holdings are displayed according to RVK.
As a result of library cooperation, the records that appear in Primo for many items held in Freie Universität libraries contain RVK codes – even if the Freie Universität library that holds the particular item does not use RVK. But the RVK coverage for Freie Universität holdings is by no means complete. Click on RVK codes displayed in Primo in order to start a new query to search for sources that have been indexed with the same RVK code.
Find RVK codes to use in your queries here: https://rvk.uni-regensburg.de/regensburger-verbundklassifikation-online
♥ RVK codes can be handed over directly to a search in Primo from the RVK website by clicking on "Suche im OPAC."
Search by DDC numbers
In the Freie Universität library system, Dewey Decimal Classification (DDC), a very important classification in the USA, is used mainly by the John F. Kennedy Institute Library.
Find DDC numbers to use in your queries here: http://deweysearchde.pansoft.de/webdeweysearch/mainClasses.html
♥ DDC numbers can be handed over directly to a search in Primo from that site.