Online Courses Spring 2022



FU-BEST offers online courses for the Spring Semester 2022. You can choose from four subject courses taught in English and five German language courses from the Beginner to the Advanced level. All courses will take place from 9 - 11 a.m. CET (Central European Time).
Our courses are open to students of all subject areas and offer an interdisciplinary approach to overarching issues and themes relevant to European Studies in Berlin and Germany today. Small class sizes make this a memorable and unique learning experience. All courses are complemented by your individually compiled "Portfolio Intercultural Awareness" (PIA) that enriches your personal academic journey with reflective insights.
Attend one or more of our courses and earn credits that can transfer to your degree back home. Almost all of our German language and subject courses can be combined with each other - browse our course catalog below and select the courses that fit you and your academic plans for Spring 2022 best!
Lean more about Berlin, Germany, and Europe and meet us online!


Watch the FU-BEST Online Teaser on our YouTube channel: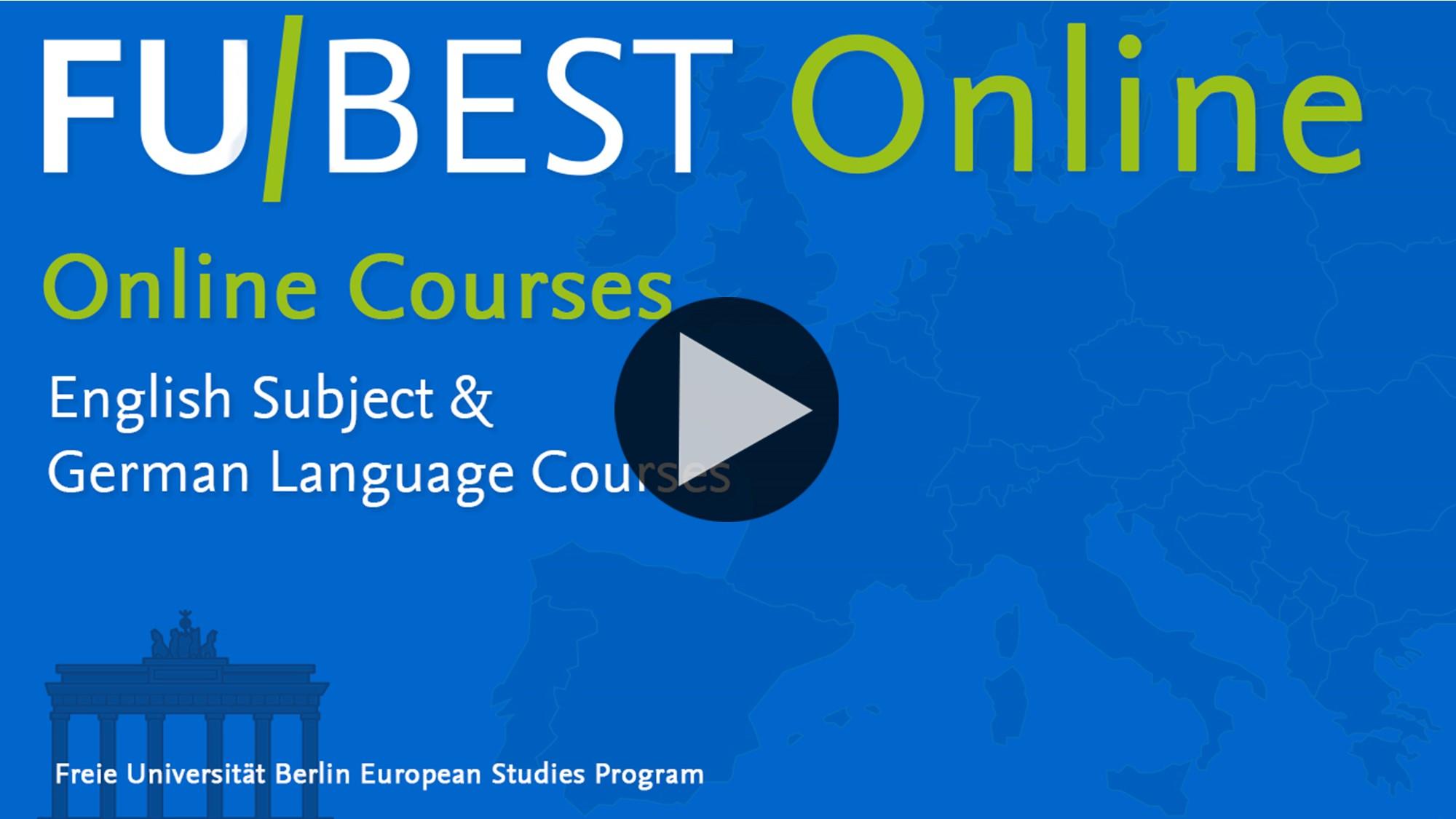 Program Dates: Februar 14 - May 20, 2022
ECTS Credits: 6 per course
Fees: € 50 program fee per application plus € 1250 tuition fee per course
Registration Deadline: December 19, 2021

---
Spring 2022 Online Course Schedule (Feb. 14 – May 20, 2022)

Please click the schedule above for a detailed PDF version
---


Please note: The 6 ECTS awarded for each subject or German language course include the successful completion of your PIA (Portfolio Intercultural Awareness). The time you invest in your PIA counts towards your overall workload, but more importantly it will also make more sense of your FU-BEST learning experience. See below for details.
Online Subject Courses
Online German Language Courses
Portfolio Intercultural Awareness
Duration: 
Phase 1 ("Expectations"): Jan. 24 – Feb. 13, 2022
Phase 2 ("Experiences"): Feb. 14 – May. 20, 2022
Phase 3 ("Evaluation"): May. 21 – Jun. 10, 2022
ECTS Credits: integrated into the 6 ECTS per FU-BEST course
As part of their study experience at FU-BEST, every student will compile their own "Portfolio Intercultural Awareness" (PIA). PIA is a self-guided reflection module designed to enhance the study experience; it is integrated into each FU-BEST course (and its overall ECTS credits). Students will reflect upon their perceptions of the international study experience at FU-BEST, their encounters with people from different cultural backgrounds, and their own concepts of themselves in relation to others. They will be introduced to theoretical concepts of cultural framing, stereotyping, and global citizenship, and apply them to their own experiences as an "I" and as an "other" in various environments. In exercises designed to heighten their intercultural awareness, they will be able to put their individual experience into context and apply their analytical skills towards a better understanding of and approach to human interaction and communication.
Each student's PIA is a conversation that they have with themselves, anticipating, reporting, and reminiscing about their FU-BEST experience, but also their study and growth experience at a temporarily different academic home in general. It will help them learn about themselves and the way they can enter into meaningful and eye-opening interaction with other human beings.
If you are interested in attending more online programs, we recommend the FUBiS Term I online program 2022. FUBiS is a sister program of FU-BEST and offers short-term courses for both intense German language and subject courses.
Admission Prerequisites
Applicants to the FU-BEST online program should:
be at least 18 years old,
have at least completed three semesters of higher education at the start of the course,
and provide documentation (a transcript copy) that their grade average equals at least the second-highest grade awarded by their home institution (e.g., a 2.0 if the highest grade is 1.0; or a 3.0 if the highest grade is 4.0; or a B if the highest grade is A; etc.).
For Subject Courses: In order to complete a rigorous academic course in English, students need to possess English language abilities in speaking and writing on the Upper Intermediate Level (at least B2, preferably above). Non-native speakers may be requested to submit English test scores along with their application. For TOEFL, the score should be minimally 100. In the case of IELTS, the overall score must be at least 6.5 and the scores on individual parts must be no lower than 6.0.
For German Language Courses: Participation in a specific German language course requires adequate language skills for the level in question. An online test that all students above the Absolute Beginner level need to complete after admission to the program will determine the participant's German language abilities prior to program start. Should the test result be below the necessary threshold for the level in question, FU-BEST will suggest a switch to a lower language level (if available) or offer a withdrawal from the language course and a refund of the Tuition Fee for this course (if paid at that point, minus applicable banking fees). The Program Fee is non-refundable after it has been paid. Should the test result allow the participant to move to a higher-level German course (if available), FU-BEST may suggest to the participant a switch to the higher level.
Please read the complete Academic Regulations for Online Courses and Code of Online Conduct for further information.
Pay particular attention to the technical requirements in the syllabi. 
---
How to Apply
1. Browse our FU-BEST Online Course Catalog and our Weekly Schedule above and select the courses you are interested in. Almost all of our courses can be combined with one another. 
2. Apply online via our FU-BEST Application Form. Please read all instructions closely. Note the application and payment deadlines in the General Terms and Conditions of Business. You will also be asked to upload your most recent transcript or send it via email to fubest@fu-berlin.de.
3. Once you have completed the online application and provided your most recent transcript, we will pre-register you and you will receive an email with your Freie Universität Berlin admission letter and payment instructions. 
4. Please note that all fees must be paid in one installment by bank transfer. Registration becomes valid only after verification of payment. All payments must be made in Euros (€). The transfer charges must be paid by the applicant. 
If you have any questions regarding the application process, please contact us at fubest@fu-berlin.de.