Online Courses Spring 2021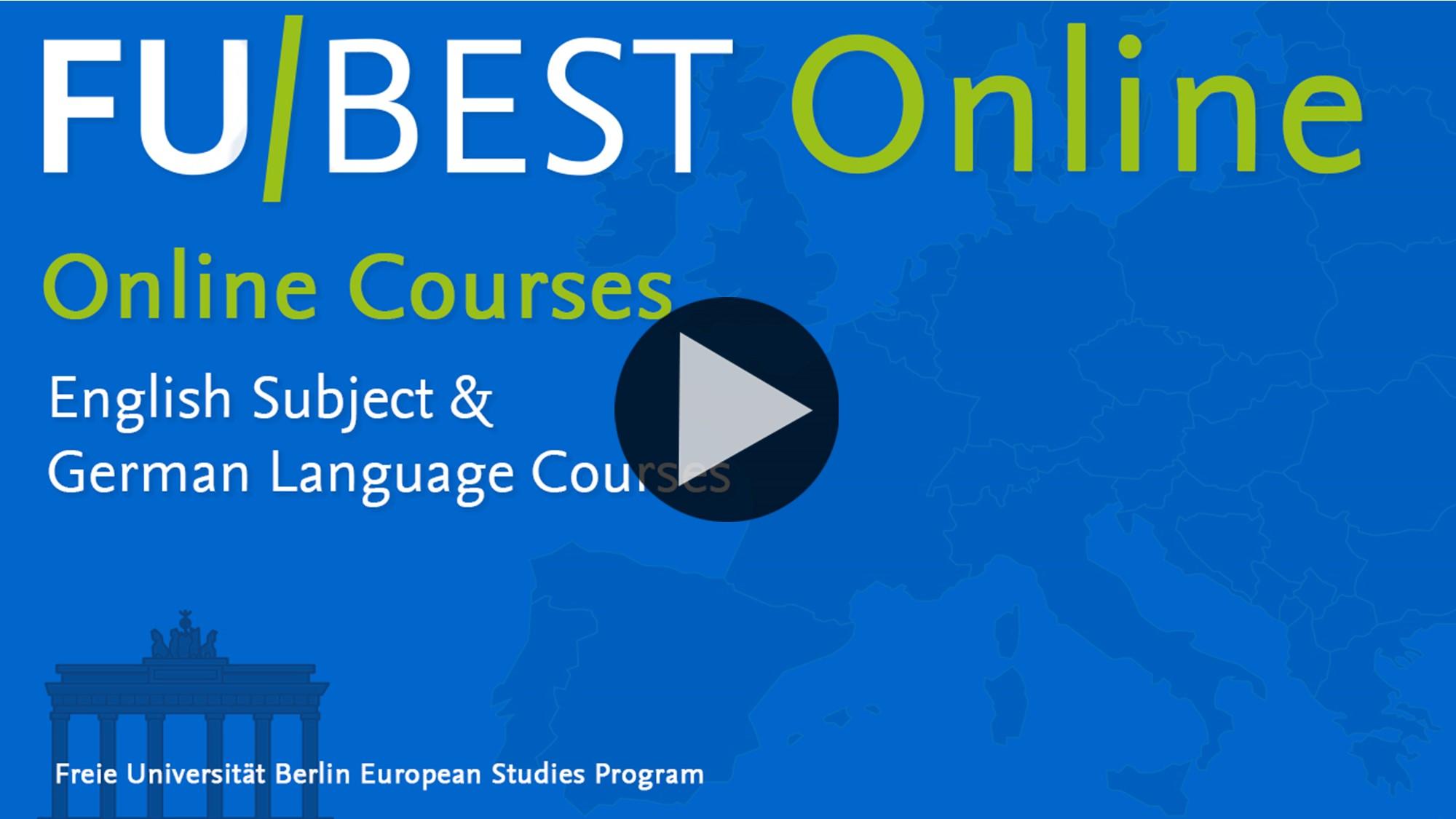 During the Spring Semester 2021, FU-BEST offers online courses for the first time! You can choose from five subject courses taught in English and four German language courses from the Beginner to the Advanced level. Our courses are open to students of all subject areas and offer an interdisciplinary approach to overarching issues and themes relevant to European Studies in Berlin and Germany today. Small class sizes make this a memorable and unique learning experience. 
Attend one or more of our courses and earn credits that can transfer to your degree back home. Almost all of our German language and subject courses can be combined with each other - browse our course catalog below and select the courses that fit you and your academic plans for Spring 2021 best!
Lean more about Berlin, Germany, and Europe and meet us online! 
Program Dates: February 8 - May 14, 2021
ECTS Credits: 4 per course
Fees: € 50 program fee per application plus € 800 tuition fee per course (includes € 300 online discount)
Extended Registration Deadline: January 10, 2021
---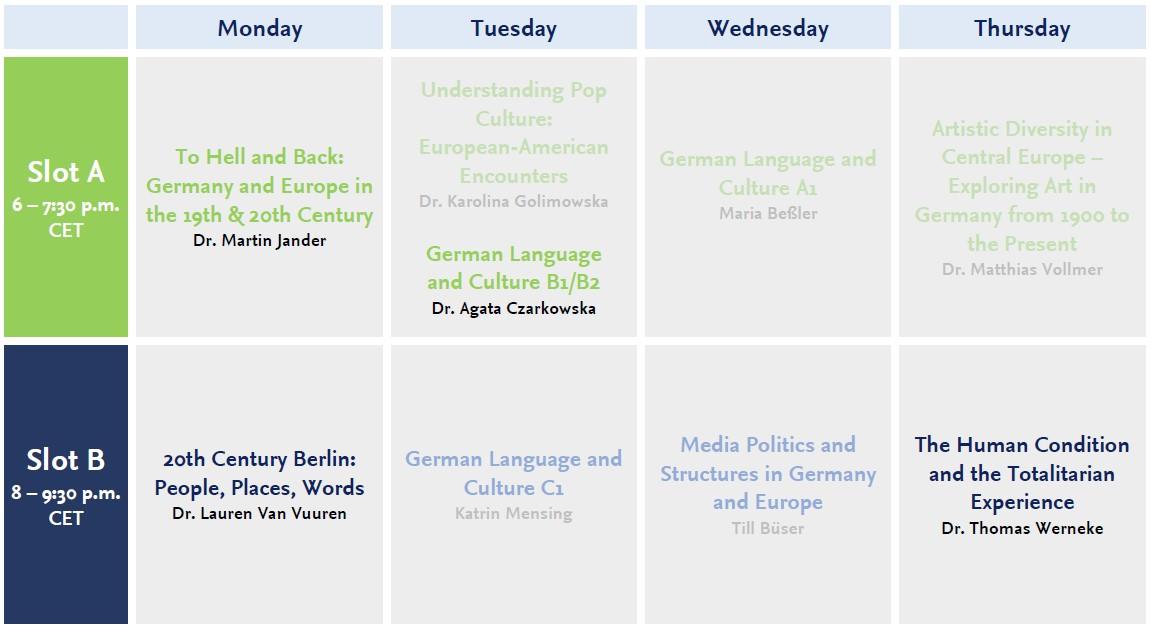 Please click the schedule above for a detailed PDF version
---
Online Subject Courses
Instructor: Dr. Lauren Van Vuuren
Live Session: Mondays, 8 - 9:30 pm CET (Berlin time)
Duration: Feb. 8 - May 10, 2021
Language of Instruction: English
Contact Hours: 30
ECTS Credits: 4
This course is about Berlin, and the story of its tumultuous and epoch defining twentieth century. We examine this history through various lenses: the biographies of individuals, the words of writers who bore witness to the vertiginous social, political and physical changes the city underwent, and buildings and monuments whose physical construction, destruction and reconstruction reflected the ideological turmoil and conflict of twentieth century Berlin.
Famous Berliners we will meet include the murdered Communist leader Rosa Luxemburg, the artist Käthe Kollwitz, the actress Marlene Dietrich, the Nazi filmmaker Leni Riefenstahl, the adopted Berliner David Bowie and the famous East German dissident musician Wolf Biermann. The contextualized stories of these individuals will offer us unique perspectives politically, artistically and socially into the tumult and struggle that marked their times in the city. These figures occupy a range of different position(s) as Berliners, as radicals, as artists of resistance to or collaboration with Nazism, and Communism, as drifters and exiles whose stories reflect Berlin's unique position in the twentieth century as 'no man's land, frontier, a city adrift in the sands of Central Europe.'
In a similar way, we will examine the words of writers who bore witness to the extremism and societal upheaval that marked twentieth century Berlin. From the witnessing of Roth and Isherwood to life in Weimar and Nazi Berlin, to the social and political commentary by Christa Wolf on the moral struggles of life lived on different sides of the Berlin Wall, we will assess their writings in their historical contexts. We will assess their words as evocations of Berlin, but also as potential or overt acts of resistance to the extremism they lived under, that attempted to maintain a solidarity with the idea of Berlin as a place of artistic and social freedom and permissiveness.
Finally, we will discover the story of places in Berlin whose physical building, destruction and rebuilding can be situated in the wider systems of ideology, power and social relations that so cataclysmically defined the physical landscape of Berlin after 1933. In this, we will focus on the story of Potsdamer Platz, the Palace of the People and as an opposite postscript to Berlin's twentieth century, the Holocaust Memorial in Mitte.
This course does not seek to provide a 'grand narrative' of Berlin's twentieth century history. Instead, it follows a thread that weaves through the history: the thread left behind by those who bore witness to their times. By tracing the stories of contemporary witnesses, left for us in books, films and songs, and in the physical construction of the city, we open up a human dimension that enriches and challenges our understanding of Berlin's traumatic re-cent past.
Structured largely chronologically, the course will work with films and novels whilst building on a clear historiographical base provided in class seminars. Guests speakers, class discussion, assigned reading work and individual research will form the basis for a seminar paper that students will be required to submit at the end of the course. This history course approaches the story of Berlin through the reflections and refractions of individual humans' lives who struggled upon the immense stage of a city at the very symbolic and literal heart of the catastrophes of the twentieth century.
To get a first impression of this course, watch Dr. van Vuuren's free lecture for our sister program FUBiS on their YouTube channel.
Instructor: Dr. Martin Jander
Live Session: Mondays, 6 - 7:30 pm CET (Berlin time)
Duration: Feb. 8 - May 10, 2021
Language of Instruction: English
Contact Hours: 30
ECTS Credits: 4
In order to understand European history of the 19th and 20th century, a focus on Germany is indispensable and unavoidable. It took a long time before the German society transformed into a modern, open and democratic society. The "Revolution of Modernity" (Ralf Dahrendorf) was pushed back before World War I and failed 1933 in the Weimar Republic. Freedom and rule of law were brought to Germany by the allied Armies. The main antimodernist ideologies that caused the Shoah and the German war against the "Jewish Enemy" (Jeffrey Herf) were: antisemitism, racism and nationalism. In the first part of the 20th century Germany attempted to destroy civilization under a blanket of propaganda and by violence, both brutal and coldly mechanistic. Today we experience a Germany that presents itself as one partner among equals in the European Union. This new identity follows 40 years of ideological, social, political, and cultural division between two German states – the Federal Republic of Germany (West Germany) and the German Democratic Republic (East Germany). Germany now enjoys the political stability, peace and prosperity of a democratic system. The change in German identity and the meaning of identity within the German context offers a fascinating angle from which to approach German history. From this angle, one gains a new understanding of Germany's contradictions, catastrophes, abysses, and moral bankruptcies before and after the Shoah, and the miraculous reconstruction after enormous casualties and destruction that resulted from the total war between 1939 and 1945.
Within these parameters, the course addresses various topics in German and European 20th century history: different political ideas, systems and movements, as well as social and cultural developments. We will compare and contrast the German variety of these phenomena with other European varieties. Two major themes are the struggles between democracy and dictatorship, and capitalism and communism, which played out through the 20th century. The course will connect these essentially ideological struggles to the two World Wars and the ensuing "Cold War", to memories of trauma, to the history of everyday life, pop culture and gender, and to the experience of youth and immigrants in Germany. Through analyses of the interconnections and distinctions between all these aspects, the course will provide participants with a better understanding of German society today.
Instructor: Dr. Thomas Werneke
Live Session: Thursdays, 8 - 9:30 pm CET (Berlin time)
Duration: Feb. 11 - May 13, 2021
Language of Instruction: English
Contact Hours: 30
ECTS Credits: 4
The course focuses on the classical concept of the totalitarian state developed by Hannah Arendt and others, which takes Hitler and Stalin as the primary models for this uniquely 20th century political system. We will be covering some of the subsequent modifications in the theory of totalitarianism, insights gained from the close examination of historical changes and developments, especially in the former Soviet Empire. Here are some of the questions we will be dealing with: what are the key elements of totalitarianism? What are the fundamental elements of totalitarian rule? What were the official positions and the popular attitudes toward the rulers and such totalitarian atrocities as the Holocaust and the mass imprisonment? What insights into the totalitarian system and mindset can be gained from psychology and psychoanalysis? Under what psychological/social conditions are individuals capable of offering opposition or resistance, as did the German resistance and the "rescuers" of Jews under Nazi domination or dissidents in the Soviet Union?
While the manifestations of totalitarianism may now appear to be bygones of merely historical interest, the social psychology of "totalitarian situations" remains acutely important, even in present-day democratic societies. The massacre at My Lai, the obedience experiments carried out by Stanley Milgram, similar events and similar studies, provide evidence of how easily average citizens – and by no means only the "authoritarian personalities" as described by Theodor W. Adorno and Erich Fromm – have the potential of behaving inhumanely in specific situations, when unthinking submission, even to the most questionable orders, seems to be the easiest way to deal with the stress and insecurity of the moment.
Online German Language Courses
Instructor: Dr. Agata Czarkowska
Live Session: Tuesdays, 6 - 7:30 pm CET (Berlin time) 
Duration: Feb. 9 - May 11, 2021 
Language of Instruction: German
Contact Hours: 30
ECTS Credits: 4
This course is designed to strengthen and expand your communicative competences in listening, speaking, reading and writing, and to deepen your understanding of German-speaking cultures in the context of Berlin. With the help of the book Netzwerk B1 and additional material, which is primarily dealing with cultural and historical aspects of German(y), you will develop your individual language skills. One of the foci of the course is placed on Berlin and its surroundings. Therefore, you will increasingly work with authentic material in class.
Admission Prerequisites
Applicants to the FU-BEST online program should:
be at least 18 years old,
have at least completed three semesters of higher education at the start of the course,
and provide documentation (a transcript copy) that their grade average equals at least the second-highest grade awarded by their home institution (e.g., a 2.0 if the highest grade is 1.0; or a 3.0 if the highest grade is 4.0; or a B if the highest grade is A; etc.).
For Subject Courses: In order to complete a rigorous academic course in English, students need to possess English language abilities in speaking and writing on the Upper Intermediate Level (at least B2, preferably above). Non-native speakers may be requested to submit English test scores along with their application. For TOEFL, the score should be minimally 100. In the case of IELTS, the overall score must be at least 6.5 and the scores on individual parts must be no lower than 6.0.
For German Language Courses: Participation in a specific German language course requires adequate language skills for the level in question. An online test that all students above the Absolute Beginner level need to complete after admission to the program will determine the participant's German language abilities prior to program start. Should the test result be below the necessary threshold for the level in question, FU-BEST will suggest a switch to a lower language level (if available) or offer a withdrawal from the language course and a refund of the Tuition Fee for this course (if paid at that point, minus applicable banking fees). The Program Fee is non-refundable after it has been paid. Should the test result allow the participant to move to a higher-level German course (if available), FU-BEST may suggest to the participant a switch to the higher level.
Please read the complete Academic Regulations for Online Courses and Code of Online Conduct for further information.
Pay particular attention to the technical requirements in the syllabi. 
---
How to Apply
1. Browse our FU-BEST Online Course Catalog and our Weekly Schedule above and select the courses you are interested in. Almost all of our courses can be combined with one another. 
2. Apply online via our FU-BEST Application Form. Please read all instructions closely. Note the application and payment deadlines in the General Terms and Conditions of Business. You will also be asked to upload your most recent transcript or send it via email to fubest@fu-berlin.de.
3. Once you have completed the online application and provided your most recent transcript, we will pre-register you and you will receive an email with your Freie Universität Berlin admission letter and payment instructions. 
4. Please note that all fees must be paid in one installment by bank transfer. Registration becomes valid only after verification of payment. All payments must be made in Euros (€). The transfer charges must be paid by the applicant. 
If you have any questions regarding the application process, please contact us at fubest@fu-berlin.de.